[ad_1]

Thanks for checking out today's post. After reading I'd love to hear your thoughts on the comments by clicking here —> Ice, Ice, (We're Having a) Baby!
It's hard to believe it's been over three years since we announced that Noah was a big brother…the first time. Boy, does time fly! We are excited to announce that we will get to meet child number three this October! (October 25th if all goes as planned.)
A few weeks ago we had the chance to surprise Abbie's mom with the news as we picked her up from the airport. (By the way, if you're interested in buying the Ice Ice pregnancy announcement shirt that Abbie is wearing,  you can check it out here.) picture you can che Check out the super fun video below to watch how we told her the news!
Introducing the Newest Member of the Smith Family
Last week we were able to see our baby for the first time as well as hear his or her heartbeat! This is the third time I've got to be a part of this experience, and each and every time it is amazing! The fact that there is a little life living inside of my wife is simply awesome. The gift of life is seriously a miracle.
The day we saw our baby on the sonogram we showed Noah one of the pictures at dinner time. I love hearing his cute little voice say "baby in tummy" as he points to my wife. It's so much fun hearing him talk, it means even more since I know he works very hard to learn every word he speaks.
A Few Thoughts On Prenatal Testing
At some point when you're visiting with your OBGYN during during a pregnancy the question comes up, "Did you guys want to do any testing?" Typically this is presented as, "Would you like to know the gender of the baby? We have a test that can find this out for you early if you'd like to know." This question sounds very innocent. Of course we'd like to know if we're having a boy or girl before the 18-20 week sonogram. But the truth is, the tests are looking for much more than the sex of a person's child – they are looking for "chromosomal abnormalities" which in turn cause many people to abort their child – this is heart breaking.
I wrote about how a mother's womb is the most dangerous place for a child with Down syndrome, that is also heart breaking. A place that is supposed to be a safe, protective place for children, turns in to an unsafe place simply because they have a different number of chromosomes. That hurts my heart.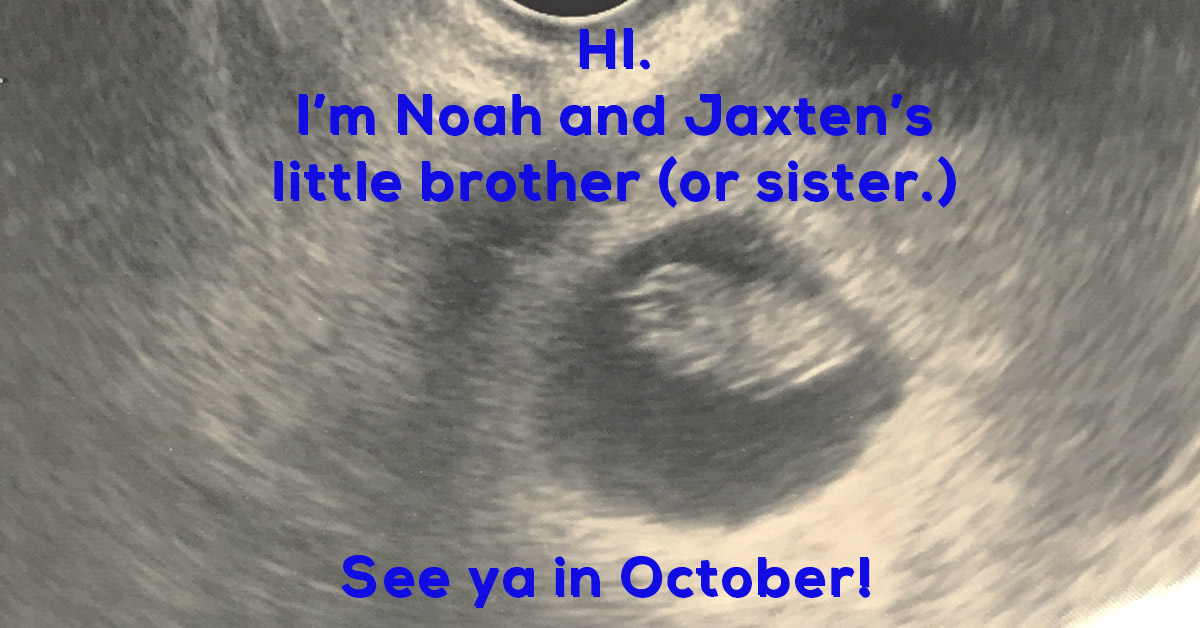 All of that to say, I personally don't want any part of any sort of parental testing. We did not do any testing when Abbie was pregnant with Noah, or Jaxten, or with this baby. This is not to knock anyone who does them, I think it's a matter of conscience. At some point I'll write a blog post talking about how I just don't think they are helpful (the tests aren't accurate, and can cause unnecessary anxiety, for one.) If you're really taking these tests truly to find the sex of your child, go for it- but you just need to be aware that the doctors main goal with these tests aren't to help you determine the sex – they are to help you make "a choice."
We super excited to find out the sex of this baby in about 10 more weeks and even more excited to see this baby towards the end of October. Our 10 year wedding anniversary is on Oct 27th, so this is quite the anniversary present!

You just finished reading Ice, Ice, (We're Having a) Baby! on Noah's Dad! I'd love to hear what you think, please take a second to click on the link above and leave a comment. Thanks for being awesome! 🙂


[ad_2]

Source link